Idaho Technology's RAZOR Biological Identifier and Reagents Selected by Royal Canadian Mounted Police (RCMP) and Public Health Canada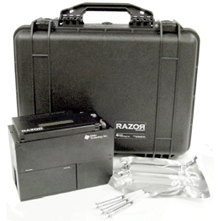 Both the Royal Canadian Mounted Police (RCMP) and Public Health Canada have recently selected Idaho Technology's RAZOR system as their identifier of choice to respond to the growing threat posed by biological terrorism.
Since 2001, there has been a growing need for the ability of first responders to diagnose a potentially threatening biological event in the field without the delays associated with advanced laboratory testing. Idaho Technology are pioneers behind PCR (Polymerase Chain Reaction) technology, used to amplify small amounts of DNA to screen against various biological threat targets. The company saw a need to develop a hand-held PCR instrument that first responders with little to no laboratory experience could effectively use in the field under harsh conditions.
Idaho Technology's RAZOR instrument has been widely adopted by both the military and first responder markets around the world and recognized as the world's most advanced ruggedized man-portable biological identifier.
To ensure that the instrument is capable of identifying the widest biological threat spectrum possible, Idaho Technology develops and produces their own proprietary freeze-dried reagents which are available to users of their equipment as well as laboratories wishing to outsource the reagent development process. Currently, Idaho Technology offers over 18 different targets with new targets continuously in development to meet the emerging needs of its customers.
Clermark is proud to support Idaho Technology in Canada and is the sole supplier of equipment and reagents in Canada for the military and first responder markets. For more information about the Idaho Technology's products please visit the product page of our website or visit the company online at http://www.idahotech.com